Feral Hog - History
About Wild Hogs
Wild hogs in the United States are the descendants of Eurasian wild boar and released or escaped domestic hogs. In 1900, only three of the states in the Southeast did not have wild hogs. By the 1970s, all states in Southeast had wild hogs and today, more than 4 million wild hogs are found in at least 45 states.
Scientific Pedigree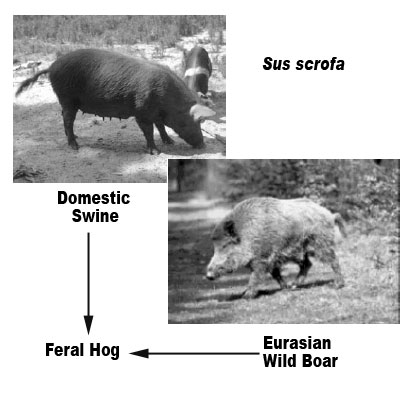 Physiology - Size Shape and Color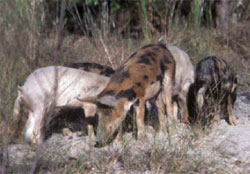 Coat coloration is highly variable (e.g., solid, spotted, belted, etc.)
Most variation is due to the mixed ancestry of these animals
Habitat Requirements
Adaptable to a wide variety of Habitats.
Need year-round access to:

Food and water
Shade
Escape cover

Recent increase of numbers in urban habitats
The information above can be found in the History and Ecology of Wild Hogs in the Southeast by Dr. Jack Mayer. The file above is provided in Adobe® Acrobat® (PDF) format. Adobe® Reader® is required to open these files and is available as a free download from the Adobe® Web site.