Seabird Sanctuaries - Joiner Bank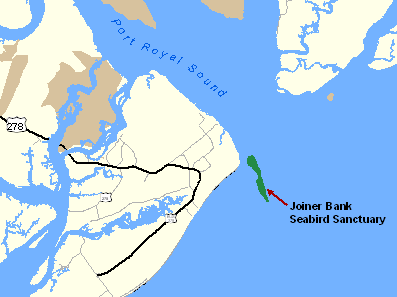 Joiner Bank Seabird Sanctuary is a sand spit formed by deposits from associated river systems. It shifts in position and structure due to erosion and deposition of sand. Presently it is a tidal bar and is underwater at high tide. Because it is covered by water at high tide, this sanctuary does not presently support waterbird nesting. It was designated a seabird sanctuary because in the past it was higher in elevation and supported colonial seabird and shorebird nesting. This sanctuary may, in the future, grow in elevation and again support colonial waterbird nesting. It remains important as a rest and foraging area for birds.
Hours of Operation
At this time, this seabird sanctuary is accessible only as a sand bar during lower tidal periods.
Closed one hour after sunset to one hour before sunrise.
Calendar of Events and Closures
Currently there are no events for this property.
Additional Regulations for Joiner Bank Seabird Sanctuary
Regulation Number: 50-11-860
No dogs are allowed.
No person may enter any area of the preserve designated as a nesting area for birds.
The information provided on these web pages are for information only. Changes are made on the DNR's web site as new legislation is passed. Any discrepancy between these web pages and any statute or regulation shall be governed by the statute or regulation.