Seabird Sanctuaries - North Santee Bar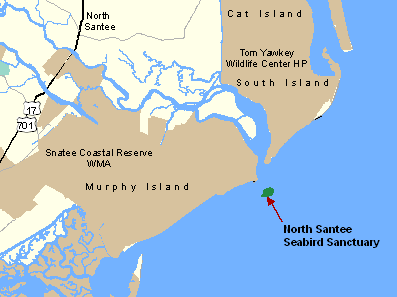 North Santee Seabird Sanctuary is a sand spit formed by deposits from the associated Santee River system. It shifts in position and structure due to erosion and deposition of sand. It was designated a seabird sanctuary because when present at high tides it supports colonial seabird and shorebird nesting, and at all times, it remains important as a resting and foraging area for birds. The remoteness and lack of mammalian predators makes North Santee Seabird Sanctuary highly valuable to nesting and migratory seabirds and shorebirds. Although all species may not nest on the island each year, examples of species that have used the island include: least tern, royal tern, black skimmer, gull-billed tern, sandwich tern, Wilson's plover, and American oystercatcher.
The colonial nesting behavior of these birds makes them very susceptible to disturbance. Birds are densely packed into breeding sites during the nesting season, rendering the entire rookery susceptible to disruption or destruction. In addition, migratory and wintering shorebirds and seabirds need periods of rest and foraging free from disturbance to survive long journeys and inclement weather. The North Santee Seabird Sanctuary is closed year-round above the high water line. Seasonal closure of the highest area including a buffer zone of at least 100 yards for nesting coastal birds and the intertidal zone (beach) is from March 15 through October 15. Closed areas will be demarcated by symbolic fencing. Dogs and camping are prohibited year-round.
Hours of Operation
Closed one hour after sunset to one hour before sunrise.
Calendar of Events and Closures
Currently there are no events for this property.
Additional Regulations for North Santee Bar Seabird Sanctuary
Regulation Number: 50-11-860
No dogs are allowed.
No person may enter any area of the sanctuary designated as a nesting area for birds.
October 16 through March 14 access is allowed only in the intertidal zone between low and high tide waterlines.
No motorized vehicles, bicycles or horses.
The information provided on these web pages are for information only. Changes are made on the DNR's web site as new legislation is passed. Any discrepancy between these web pages and any statute or regulation shall be governed by the statute or regulation.