DNR News
May 26, 2015
Commercial shrimp trawling season opens May 27
Fresh local shrimp is back on the menu in South Carolina. As of 8 a.m. on Wednesday, May 27, the commercial shrimp trawling season opens in state waters within the General Trawl Zone (GTZ), and fishermen and biologists alike are anticipating a good year.

Shrimp season normally opens in mid to late May, after the peak spawning period of white shrimp has occurred. Following a relatively mild winter, this year's opening date is fairly typical. Eight smaller provisional areas were opened last week to shrimp trawling.

"Although coastal water temperatures, which influence shrimp growth and maturation, have fluctuated recently, in recent weeks they finally stabilized and became more conducive to promoting a good spawn in our nearshore waters," said Mel Bell, S.C. Department of Natural Resources' (DNR) Director of Office of Fisheries Management.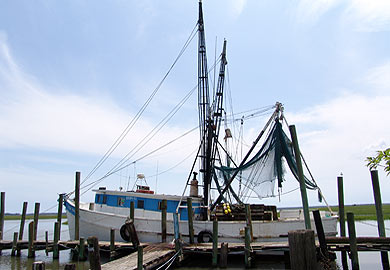 DNR surveys indicate that spring white shrimp stocks are somewhat above average in 2015, according to biologist Larry DeLancey. "Water temperatures in late February approached lethal levels for white shrimp, but fortuitous warm weather allowed most overwintering shrimp to survive," DeLancey said. DNR monitors South Carolina's shrimp fisheries in a number of ways, relying on data collected by DNR biologists during sampling trips aboard both commercial and agency vessels to form the most accurate picture of the state's shrimp populations.

Three peak periods define the state's commercial shrimp fishery calendar. The first, white roe shrimp season, opens 8 a.m., May 27 in all state waters where trawling is permitted. The white roe shrimp season generates the most value for fishing effort with relatively high early season prices for large roe shrimp. The brown shrimp season typically peaks during the summer months, while the white shrimp season composed of offspring from the spring roe crop peaks in the fall and ends in winter.

The total shrimp harvest in 2014 reached approximately 1.6 million pounds (measured heads-off), with a dockside value of nearly 8 million dollars. In recent years, the fall crop of white shrimp, which is produced by the spring spawners, has been impacted by environmental factors such as drought and disease.

S.C. Shrimpers Association president Richard Billington said that shrimpers are looking forward to a good harvest of large, white shrimp in 2015.

"Generally the shrimp are caught within the first two weeks of the season's opening. The public and restaurants should be aware of this and stock freezers early," Billington said. "S.C. wild-caught shrimp can be purchased from coastal wholesalers in 50-lb lots that can be divided between family and friends. Hopefully restaurants will take advantage of these delicious shrimp that are available for a limited time."

Commercial shrimpers are reminded that trawling outside the General Trawl Zone is prohibited. Violations can carry a fine between $4,000 and $10,000, as well as the seizure of all catch.

"DNR Law Enforcement Officers from Region 4 have worked extremely hard during the weeks leading up the shrimp season and the opening of the provisional trawl season," said Captain Gentry Thames of the Region 4 Charleston office. "Four cases have been made by officers so far, and DNR Law Enforcement will continue to be vigilant and diligently work the trawl zone boundaries and enforce the laws pertaining to the commercial shrimping industry."
---
More News